THE TEAM FOR ELECTRIC AUTOMATIC GATES, DESIGN,
INSTALL & MAINTANANCE
We have teamed up with David Curtis, a local wrought iron specialist who has extensive experience with automated electric gates. We deal with the electrical side of things and Dave deals with the metal work side of things. Between us, we believe we have a winning partnership with competitive pricing and expertise in each given area. Our electric automatic gates start from £795, supplied & fitted within the South East of England.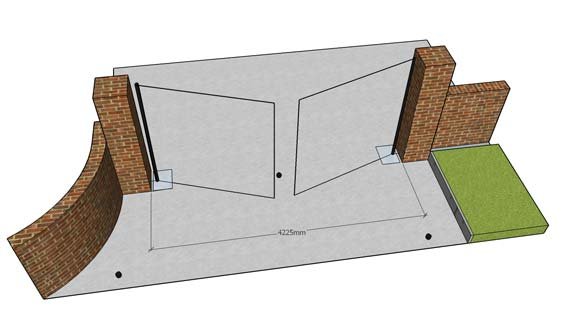 Computer aided design
Park gates in Bromley fitted by David Curtis
WHY CHOOSE US?
The last job we attended was to find a fault and fix some gates in Chislehurst. They were manufactured by an Italian company called FAAC. The gates were opening and closing without being ordered to so. We replaced the photocells as they were old and perished, so much so that a spider had made home inside one of the units. Whenever the gates were opened or closed it most probably disturbed the spider and caused it to cross the beam and hence activate the in-built safety device. This causing the gates to open up again and repeat itself over and over. Additionally, one of the brackets was broken.
Addiontally, I replaced the main PCB board as the old one was partially water damaged and had seen better days. The customer was delighted with our service and gave us a great review but sadly on this occasion did not express it in writing; otherwise we would have added it to our site.
We believe we can offer you a first class service because of the fact that we specialise in the electrical side of things and Dave Curtis, the blacksmith, specialises in the metal side of things. Between both parties you will be getting experts in each given field. Additionally we can provide custom made designs for any electric automatic gate project you may be considering, drafted via our own in-house computer aided design software.
Please call or email Jonathan today on 07910 777737 or [email protected]