We provide Domestic and Commercial electrical services in Bromley, Croydon,
Greenwich, Bexley, Kingston, Richmond and other nearby areas in South London.
Our Electrical
Services
CALL JONATHAN, YOUR LOCAL ELECTRICIAN
Firstly, thank you for visiting our website. South-London-Electricians is a company of professional electricians that encompasses all aspects of
electrical installations, inspections and periodic testing throughout Central London, South London, Kent and Surrey.
NO VAT PAYABLE
Combined 45 years experience
Many references available
NAPIT, REAL and MCS registered
Friendly Professional Electricians
City and guilds qualified
Reliable, clean & quality workmanship
Contact
Us
Customer
Reviews
Mr J McNamara
"Really pleased with everything you've done, will definitely have you back when we do the bathroom"
Mr J McNamara
October 2016
Mr J Farger
"Many thanks for the work you have done. It all looks great. Should we need any more work done in the future, I'll be in touch"
Mr J Farger
March 2017
Mrs C Dimmick W1G
"You've been very professional at keeping me informed and done a great job. If you need any references let me know"
Mrs C Dimmick W1G
Summer 2018
Ms Thompson E15
"Thank you. I will recommend you to all my friends"
Ms Thompson E15
Summer 2016
Mr Roberts SW1
"Thank you… I will probably have you back to do my full re-wire "
Mr Roberts SW1
Summer 2017
Mr D Hart SE1
"It looks really good, thanks for your hard work! Nice to have a full shower at last"
Mr D Hart SE1
Winter 2017
Miss C Kiff E1
"Thank you… Fixing the light for free was much appreciated"
Miss C Kiff E1
Winter 2018
Mrs Militaru SE23
"Thank you very much….We are very very pleased"
Mrs Militaru SE23
Spring 2019
Mr A Ratcliffe SW2
"Hi Jon, just wanted to say thanks for all the work you've done over the past few weeks!….I"ll be in touch in the not so distant future for other work. Thanks again…"
Mr A Ratcliffe SW2
Summer 2018
Linden Lodge School
"Thank's again for completing all scheduled tasks yesterday. We are all reassured all Emergency Lights are now functioning normally …. Once again, your attention to finer details along with your professionalism is very much appreciated!" Huss at the Swim School, Linden Lodge School, Winter 2016
Linden Lodge School
Winter 2017
Areas 
We Serve
\
Bromley | Croydon | Greenwich | Bexley | Kingston | Richmond
and other nearby areas within South London.
FAQs
Do you charge a parking fee?
Customers either provide parking or visitors/tradesmen's permits. If none of this are available, then the customer pays for the hourly rate.
Which areas in London do you serve?
We cover all areas in South and Central London .
Is an EICR a legal requirement in England?
Yes it is for a landlord but not if the premises are privately owned.
How much does an electrical inspection cost in UK?
This depends on where the premises are, how much clutter is in the premises (ie. Its a lot quicker and cheaper in an unfurnished/unoccupied one) and it is very helpful if some previous reports are available to go by as then a sampling method can be used.  
How do I get an EICR certificate?
Either digital or physical copy or both. Usually takes about half a day on site and half a day to type up although larger premises can take considerably more. It usally takes a day to test 8 circuits in a typical home and this is a good yardstick to calculate on larger premises.
Who can issue an EICR certificate?
Only a registered competent person a list of which can be found on the electrical safety register.  
How long do EICR certificates last?
Latest
Blog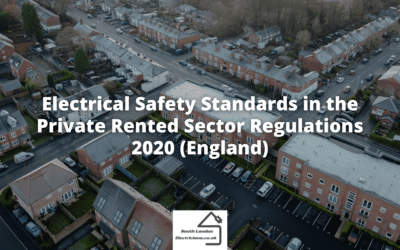 Landlords with properties in England will need to conduct an Electrical Installation Condition...
read more